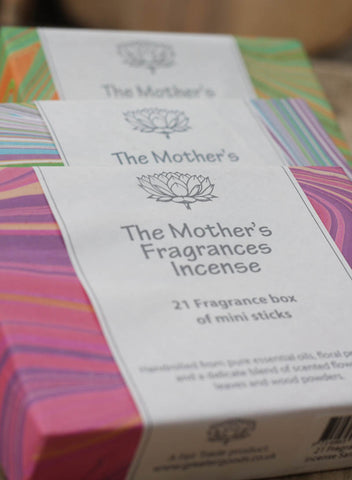 INCENSE GIFT BOX - by The Mother's Fragrances
BEAUTIFUL ASSORTMENT BOX OF 84 MINI INCENSE STICKS IN 21 DIFFERENT FRAGRANCES FROM THE MOTHER'S FRAGRANCES INCENSE.
The set contains 4 mini sticks of 21 different fragrances, so 84 sticks in all, along with a brochure describing the technique of making The Mother's Fragrances Incense, all presented in a lovely, handmade box.
The 21 fragrances in the box are: amber, autumn leaves, cinnamon and spice, evening rose, frankincense, gardenia, honeysuckle, jasmine, lavender, lotus, musk, myrrh, opium, orange blossom, patchouli, passion flower, rose, rose & violets, spicewood, vanilla and wild flowers.
The burn time is around 10 minutes, but will vary - some sticks can burn much longer.
The Mother's Fragrances is a clean burning, non-irritating, light and natural incense that subtly scents the atmosphere. The Mother's Fragrances Incense is blended using essential oils, floral essences, herbs, wood powders and scented flowers, and made entirely by hand using the age old Masala method in Puducherry in South India.
A truly beautiful gift that has been genuinely fairly traded.