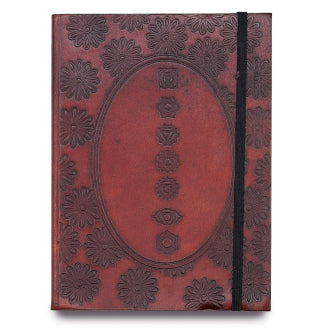 CHAKRA SYMBOLS LEATHER NOTEBOOK
Beautifully embossed and handmade Chakra symbols vegetable-tanned leather notebook.  The design makes this an ideal gift for the more spiritual person in your life.
Each notebook contains approximately 75 pages of acid free, unlined khadda paper - khadda is recycled cotton that has been left over from the massive garment industry in India.
Measures approximate 10cm wide by 15cm high x 2cm thick