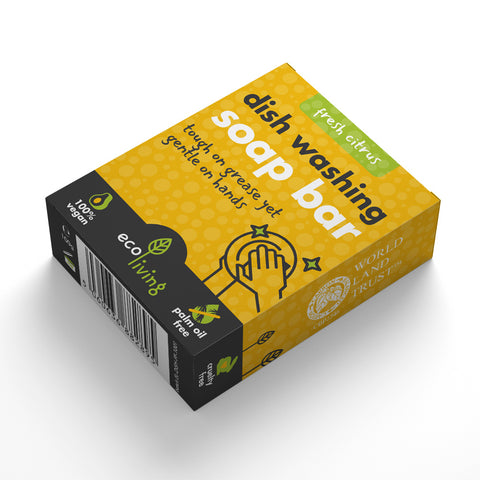 FRESH CITRUS DISH WASHING SOAP BAR
Dish Washing Soap Bar, made in the UK. Tough on grease yet gentle to your hands, so mild the rinse water can be used on your plants!
100% natural dish washing soap bar, which is biodegradable, plastic free and contains no palm oil.  Made with love in the UK.
A dish soap bar for washing dishes, used as a replacement for washing up liquid or can also be used as a very gentle and effective handwash laundry bar, e.g. on holiday, or directly onto recent staining.
100% derived from nature. 100% vegan.
A beautiful uplifting scent of fresh lemons and limes. With their antiseptic and antibacterial properties, the pure essential oils are perfect additions to this natural cleaning bar.
>30% Soap, Parfum (Citral, Limonene)
≥ 5% Anionic Surfactants - naturally derived from coconut oil and citric acid.