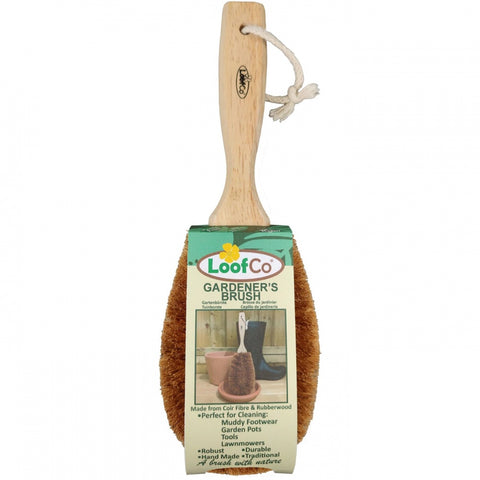 LOOFCO GARDEN BRUSH
LoofCo Garden Brush, a handy tool for any gardener. This brush is hand made in Sri Lanka from coconut coir fibre, twisted around a galvanised rust-proof metal core, with rubberwood handle from rubber trees that have finished yielding latex in Sri Lankan rubber plantations.  With added cotton string hanging loop.
This robust coir fibre brush has a brush head measuring approximately H13 x W10 x D5cm and a 15cm rubberwood handle.  Total brush length 28cm.
Specially designed to tackle numerous outdoor tasks, such as cleaning pots, garden tools, muddy boots and trainers.
Immerse in warm water and use with detergent if required. To keep brush fresh between uses, rinse and shake out excess water & hang to dry from the cotton loop. Long lasting in normal use and when worn out, the fibres are biodegradable, and the core and handle can be recycled.