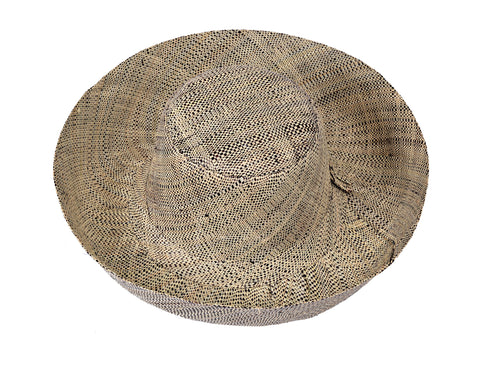 NATURAL & BROWN FLECK MEDIUM BRIM PACKABLE RAFFIA HAT
Stunning and stylish handmade natural raffia hats.
Just wonderful for weddings or a day at the races, or for taking on holiday for a touch of beach or poolside glamour!
So practical & versatile, they can be rolled up and packed, then reshaped!  You can wear them with the brim turned up or down, or half & half!
These hats are handmade by skilled artisans on the beautiful island of Madagascar.  The raffia used in the hat production is a renewable and highly sustainable raw material, making these hats incredibly eco-friendly. The hats have been genuinely fairly traded, are excellent quality and fabulous value for money.
Brim width approx 12cm. 
Head circumference approx 56/57cm.  Being made from natural raffia, the hats will easily expand to fit, with some gentle 'wearing in'.  If a bit loose, placing a ribbon band inside the hat will reduce the size to fit your head.
Please note that as these hats are handmade, using hand-dyed raffia, measurements and colour shades may vary.