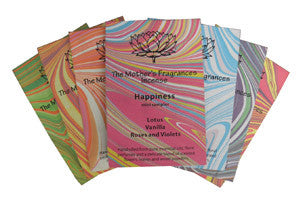 THEMED INCENSE SAMPLE PACK - by the Mother's Fragrances
An excellent way to introduce yourself to the gentle joys of The Mother's Fragrances: there are 7 themed sampler packets to choose from.  Each packet contains 2 mini sticks of 3 different fragrances plus an information leaflet describing the technique of making The Mother's Fragrances Incense.
The 7 themes are:
Activity - musk, rose, cinnamon & spice
Dreams - evening rose, myrrh, wild flowers
Happiness - lotus, vanilla, roses & violets
Inspiration - passion flower, autumn leaves, orange blossom
Nostalgia - spicewood, patchouli, frankincense
Rest & Meditation - amber, opium, lavender
Summer - jasmine, gardenia, honeysuckle
The burn time is around 10 minutes, but will vary - some sticks can burn much longer.
The Mother's Fragrances is a clean burning, non-irritating, natural incense that gently permeates the air. The Mother's Fragrances Incense is blended using a wide range of aromatic gums, wood powders, petals, essential oils and perfumes, and made entirely by hand using the age old Masala method in Puducherry in South India.
One packet supplied, containing 6 mini sticks.  The colour of the packet may vary.