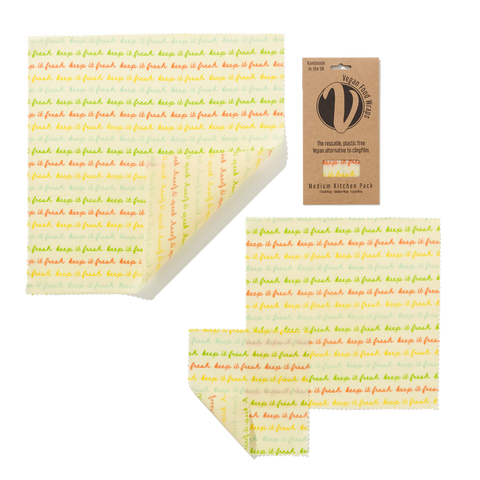 VEGAN WAX WRAPS MEDIUM KITCHEN PACK
Handmade in Stroud Gloucestershire, from a plant based wax, organic jojoba oil, natural pine resin and organic GOTS certified cotton, our wraps are a great alternative to using cling film and tinfoil.  They don't leach any harmful chemicals into your food and help towards cutting down on plastic ending up in landfill sites and our oceans.
Keeps your food super fresh - The combination of natural ingredients with the 100% cotton fabric allows our wraps to breath, making sure your food stays fresher for longer. No more dry bread ends or sweaty cheese.

Clingy, but in a good way - Beeswax and pine resin give our wraps a natural adhesive, making sure your food is sealed tight.  The warmth from your hands helps mould the wraps to give a strong seal.

Reusable - rather than using cling film or foil that you throw away after one use, our wraps can simply be washed in cold water with a little bit of soap and they are ready to roll again. After a month or so just pop them in the oven to re-pasteurise them and off you go again.

Biodegradable - once you have used your wrap to the max, you can pop it on your compost!
Pack contains:
1 x Small Wrap (approx 20cm x 20cm)
1 x Medium Wrap (approx 30cm x 30cm)
1 x Large Wrap (approx 40cm x 40cm)